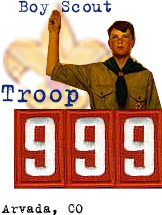 Boy Scouts is available to boys who have earned the Arrow of Light Award or have completed the fifth grade, or who are 11 through 17 years old.  A boy does NOT have to have been a Cub Scout or Webelos to become a Boy Scout.
To find out more about Scouting with Troop 999, contact us at Troop999co-owner@yahoogroups.com.
If you are new to Troop 999 you can subscribe to receive our yahoogroup email.  Click the Join This Group! button.  If you have changed your email address recently, you can also register the new one here.